Anyone remember BBC 'PlaySchool' ??? I thought of it straight away when I saw the Maya Road Square, Arched and Round Windows !!
Lulu went to a beautiful Nursery called Stepping Stones in a renovated Georgian building with windows just like these and a fabulous rocking horse which she loved to ride.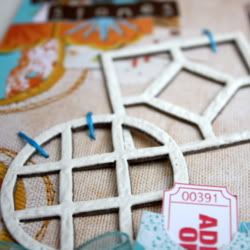 A nice thick coat of white embossing powder really makes these look like real painted wooden window frames, so cute and I always love to have a little play with embossing powders and a heat gun.
The gorgeous Sassa. 'Mix & Mend ' paper inspired a few extra stitches to pull the design together in no time at all, another gorgeous collection of supplies from the lovely GoGo 'Attic Treasures' kit xx