January is always a time of resolution , new starts and reflection. I chose to scrapbook this photo of me taken by Kirsty Wiseman as I am looking quite thoughtful...for a change !
The Bo Bunny fabric bloom is cool but a little too 'fat' for my design , so I carefully took it apart and cut it lengthways. I punched some circles from CS and applied the fabric lengths with DS tape , this gave me 3 slimmer flowers :) A great way to stretch the supplies a little further ...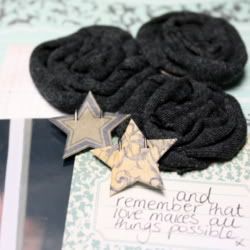 The GoGo Store had some gorgeous Jenni Bowlin paint dabbers on sale earlier this month and as I managed to bag a few I thought it would be a good idea to brush up on a few paint techniques.
I have stuck the lovely Maya Road frames to the CS with pva glue and then applied acrylic paint uniformly over the CS and frames for a dimensional look that's quite effective in showcasing the architectural shapes but at the sametime is not too busy or distracting.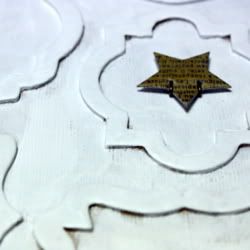 A simple BG star creates a focal point amid the stark white. This is a little bit out of my 'comfort zone' as I am normally a layer , layer and then add another layer kinda gal !!
Hope you like it :) x