I was very lucky to recieve an invitation to The Royal Opera House as part of my job recently. As beautiful as the auditorium is the backstage areas were totally amazing.
I wasn't allowed to take photo's inside but got a couple of shots outside on the camera phone it was as lovely experience.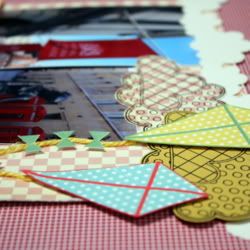 I have concentrated on the beautiful hybrids for this LO , I love the kites particularly and they are such fun with the yellow jute and the hybrid tails on them.
You really can stretch your kit so much further by adding the free hybrids to a sheet or two of paper or CS and get a great LO for almost nothing !